Join My Mailing List

Homepage
Hal's Blog
View/Print Hal's Flyer
Classic Car/Truck Section
Mechanical/Restoration Consulting
Handmade Classic Wooden Boat Models
Place An Order With Us
Journeys--Short Stories Of Good Things Remembered
Letter From the Owner
Visit Hal's New Shop
Contact Us
QUESTIONS? Call Hal (the owner) at
(518) 374-5078

Carburetor Kits
Get a fast quote on the carb kit you need.
Rather have me restore your carburetor?

I sell the best carburetor rebuilding kits on the market. They are all new production, made in the USA carb kits, designed to withstand today's alcohol-based fuels. my carburetor rebuilding kits are thorough (to include mounting gasket), and have excellent instructions. These carb rebuilding kits are available for carburetors from 1932 through 1993 (only) for all domestic and most foreign car and truck applications. PLEASE NOTE that I do not sell individual kit parts, just complete kits.

You've come to absolutely the best place to order your carb kits. Inquire about purchasing a carburetor kit, and I'll get back to you fast with a kit number and price quote. (I sell fuel pump kits, too. To learn more about them, go to my fuel pump kit page.)
BEWARE!!:
Some folks will gladly sell you a carburetor kit with no instructions. That's not much good to you, is it?


Other folks will sell you a carburetor rebuild kit without enough parts to rebuild the carburetor. O.K., if you don't mind then having to go out and buy the parts that should have been in the kit


Still other folks will sell you a carburetor repair kit with materials that won't hold up to today's oxygenated fuels. Good enough kit -- it just doesn't work!


Get a carburetor rebuilding kit that works and lasts.


Get a carb rebuild kit that will let you do the job once and be done with it.


In short, get your carb kits from The Classic Preservation Coalition. Oh, for heaven's sake, what are you waiting for?! Get a quick quote on the kit you need. Fast and simple.
Inquire About Purchasing A Carburetor Kit
**NEW**: Universal reproduction Daytona 1 barrel carburetor
Fits early Ford 6 cylinder engines (including flathead 6 cylinder models), early Chevy car and truck 6 cylinder engines, early Jeep 134 cu in 4 cylinder engines, and a wide range of farm/industrial equipment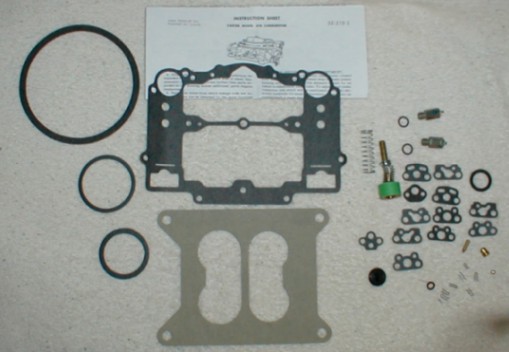 Representative picture of a carburetor rebuilding kit
---
My phone number is (518) 374-5078 Feel free to call. If you get a machine (if I'm running equipment in the shop, on another line, or if it's after business hours, you'll get a machine), please leave a message. You'll experience something unusual these days--I'll call you back! You can also talk to me via the "Contact Us" link on most pages of this website.

Read what customers are saying about the Classic Preservation Coalition!


Classic Car Section Main Page

[Contact Us]
[Home]
Click Here To Bookmark This Page!
(Internet Explorer users only. Netscape users hit Ctrl+D on your keyboard.)


---

Carefully Preserving, Restoring, and Presenting the Rich Treasures of Timeless, Quality Craftsmanship
Privacy Policy/Terms of Service