Join My Mailing List

Homepage
Hal's Blog
View/Print Hal's Flyer
Classic Car/Truck Section
Mechanical/Restoration Consulting
Handmade Classic Wooden Boat Models
Place An Order With Us
Journeys--Short Stories Of Good Things Remembered
Letter From the Owner
Visit Hal's New Shop
Contact Us
QUESTIONS? Call Hal (the owner) at
(518) 374-5078

Spark Plug Ignition Wire Sets--Low-Resistance, Metallic Core
The Classic Preservation Coalition now stocks a new-production, metallic core, low-resistance spark plug wire set for all pre-1970 cars, trucks, industrial, agricultural, and marine engines.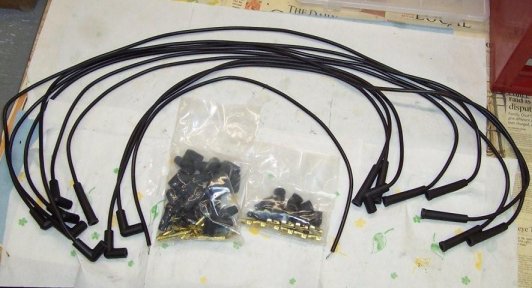 Here are some very important reasons you should use this wire set on your classic vehicle:
Early point-type ignition systems were made to operate on and deliver correct voltages to the spark plugs through low-resistance, metallic, solid core plug wires.
Most wire sets you will purchase today are the newer HEI (High Energy Ignition) type. These wires are designed for use on ignition systems with outputs of 35,000 to 45,000 volts. Your original classic point-type ignition system operates in the 20,000 volt range. Putting modern HEI wires on your 20,000 volt classic ignition system causes low voltage to the spark plugs, resulting in hard starting, poor gas mileage, decreased performance, rough running, fouled plugs, and other symptoms that seem carburetor-related, when, in fact, they are being caused by incorrect plug wires.
Here are some important specs for the wire set I sell:
The wire core is tinned copper or stainless steel 7mm wire.
The wire outer coating is black Dupont Hypalon.
The wire resistance value is .005 ohms/foot, compared to 500 to 5000 ohms/foot for today's HEI wires. Beware of many of the "as original" sets sold today! Many of them are made from high-resistance wires. Be sure to ask before you buy.
This wire set comes with connectors and boots to configure to your engine. The set contains 8 spark plug wires. On one end is a 90 degree boot, and on the other end is a straight boot. If you need to reconfigure the boots, you simply cut off the ones you do not need and install the correct ones, which are included in the set. The set also includes a coil wire.
The wire set number is 3802, and the cost of the set is $70.00, plus $17.00 shipping to any point in the continental USA.
When you're looking for optimum performance from your classic vehicle's engine, be sure to add this wire set to its future.
Order Wire Set #3802


If you have questions about this wire set, contact Hal.
My phone number is (518) 374-5078 Feel free to call. If you get a machine (if I'm running equipment in the shop, on another line, or if it's after business hours, you'll get a machine), please leave a message. You'll experience something unusual these days--I'll call you back! You can also talk to me via the "Contact Us" link on most pages of this website.

Read what customers are saying about the Classic Preservation Coalition!


---

Carefully Preserving, Restoring, and Presenting the Rich Treasures of Timeless, Quality Craftsmanship
Privacy Policy/Terms of Service