Join My Mailing List

Homepage
Hal's Blog
View/Print Hal's Flyer
Classic Car/Truck Section
Mechanical/Restoration Consulting
Handmade Classic Wooden Boat Models
Place An Order With Us
Journeys--Short Stories Of Good Things Remembered
Letter From the Owner
Visit Hal's New Shop
Links
Contact Us
QUESTIONS? Call Hal (the owner) at
(518) 374-5078

Vacuum Tank Kits
Rather have me restore your vacuum tank?

Before there were fuel pumps supplying gasoline to engines, there were, of course, fuel vacuum tanks. I offer a line of new-production, made in the U.S.A. vacuum tank rebuilding kits for virtually all of the Stewart-Warner tanks ever used. Complete, thorough, and including extensive instructions, these vacuum tank rebuild kits are the kits you want to properly rebuild your vacuum tank--and they're made from modern materials that hold up in today's alcohol-based fuels.
NEW: Reproduction Brass Vacuum Tank Float Now Available

NEW: Reproduction Inner Tank Flapper Valve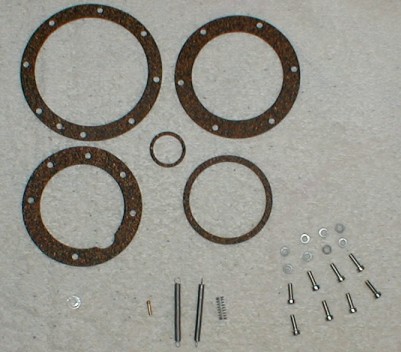 Representative picture of a vacuum tank kit
My phone number is (518) 374-5078 Feel free to call. If you get a machine (if I'm running equipment in the shop, on another line, or if it's after business hours, you'll get a machine), please leave a message. You'll experience something unusual these days--I'll call you back! You can also talk to me via the "Contact Us" link on most pages of this website.

Read what customers are saying about the Classic Preservation Coalition!


Classic Car Section Main Page

[Contact Us]
[Home]
---

Carefully Preserving, Restoring, and Presenting the Rich Treasures of Timeless, Quality Craftsmanship
Privacy Policy/Terms of Service